Creating a printable sales flyer with tear off tabs is a simple and effective way to market a local service. We've all seen them hanging in post offices, on bulletin boards and in other high-traffic places. The reality is that advertising doesn't always have to be expensive and out of reach for local service providers.
While "Main Street" isn't producing too many new jobs, according to a relevant CNBC article, lots of individuals are entering the workforce by creating their own job or additional source of income.
Using a tear off flyer is one of the first and primary advertising methods for lots of independent businesses. Using our guide below you'll be able to create your own flyer and use it to generate business for yourself. We've included a few simple tips that will help your advertising effort gain some success.
Begin with a flyer template like we show below.
Download Tear Off Flyer Template in MS Word
You'll begin by opening the document and making changes to the sample information to prepare it for printing. Update your form with the type of services that you provide and the best ways to contact you. Notice that we've included a text number. Businesses text messaging has become a great and growing practice. By including a telephone number where you can receive text messages you'll provide another convenient way for prospective customers to reach you. In today's age, more and more people prefer this passive and less-personal method of communicating.
Your printable flyer can be decorated in any way you wish. You can include background images, colors and other features that are provided in your word processor. A plain white flyer works great, but you can add any flair that you wish to make the flyer stand out and be more appealing. The tear off tabs are already formatted in the template, so all you'll need to do is click and type to replace our sample text with your own.
Once printed, make a cut between each tab at the bottom or the page. We've found that by adding a strip of tape and pre-cutting the tabs that they are easier to remove. This is simply done by printing the form, laying the sheet print-side down and adding a strip of common clear tape just above the tabs as shown. Next, use scissors to separate and partially pre-cut the tabs.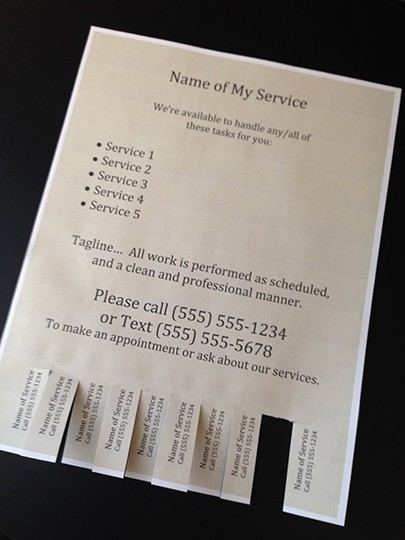 For good measure before you hang up your flyer, we suggest removing one of the tabs so that it appears to have been of interest to a previous passer-by. You'll notice that we pre-cut a top portion of the tab so they will remove easily.
By using the tape and pre-cutting the tear off tabs, each tear off is easy to remove, and nobody will accidentally rip your advertisement in the process.