In this archive, you will find free printable Form Documents for various business and personal uses.
Forms are usually in Microsoft Excel or Adobe Acrobat PDF format with some type of open entry or field. In these fields you can to fill out information used to organize a specific task.
Form- Printable Templates & Samples
Investment Trading Journal
This free spreadsheet is provided to assist with tracking market purchases and sales transactions of stock market securities or related ...
Employee Grievance Form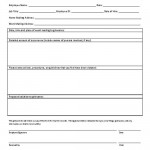 When business office policies are not followed, or an employee wants to file a grievance against another employee, detailed documentation ...
Supply Requisition Form
Purchasing systems can be made much easier when documentation is submitted for supply or equipment requisitions from employees. That ...
Baseball Scoresheet
This complete baseball score sheet is the one to use for any baseball league, game or tournament. This form ...
Baseball Score Card
Keep score for your baseball league accurately and effectively with our printable score card. We have provided an easy form for ...
Softball Lineup Card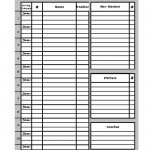 Softball lineup cards are used most often by coaches in softball leagues to create the player lineup for their team. ...
Baseball Lineup Card
Baseball lineup cards are used most often by coaches to create the player lineup for their team. A copy ...
Travel Request Form
Travel Request Form is formal Adobe Acrobat PDF document that can by used by businesses for employer to request booking ...
Meeting Agenda Template
When planning business meetings, it is customary to send out a copy of the meeting agenda beforehand to notify attendees ...
Job Description Form
When running a business, it's best to keep a formal record on hand documenting each job position and a thorough ...
Athletic Physical Form
Prior to allowing your child to participate in any extra-curricular activities, such as sports or track and field, it is ...
Basic Job Estimate Form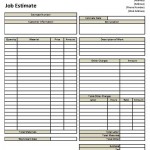 The Basic Job Estimate Form is to be used by any type of business, contractor, painter, or person that may ...