The Personal Business section includes free printable downloads that can be used to document and organize personal finances and communications.
The pages in this section include various financial calculators, budget spreadsheets and schedule organizers.
You will also find resume examples, career letters and other letter templates. There are also subcategories in our parenting category for educational documents and worksheets.
Personal Business Documents – Menu Pages
Mortgages & Loan Forms
Financial & Budgeting forms & Worksheets
Resume & Career Letters & Documents
Parenting Forms & Worksheets
Organizers Worksheets & Templates
Checklists Documents
Health & Wellness Documents
Most Recent – Personal Business Document
Project To Do List
Below you will find a download to our free Project To Do List spreadsheet form. Some projects, like hanging a picture, ...
Pros and Cons List
Some decisions are easier to make than others, especially when large amounts of time, money or both are involved. We often ...
Credit Freeze Letter Template
If you feel that your credit information has been compromised, you may need to execute a credit freeze letter using ...
Affidavit of Heirship Form
This affidavit of heirship form is a legal template that can be used to document ownership of property. An Affidavit ...
Cash Flow Worksheet – Monthly
The basic Monthly Cash Flow Worksheet can be downloaded below for free in Microsoft Excel. This spreadsheet was created ...
Math Worksheets
This page includes a variety of math worksheets in Microsoft Excel. The free math worksheets are available for download below ...
Numbered Lined Paper Template
Download our free numbered lined paper template in Adobe Acrobat PDF format with form fields. The link to download this ...
401k Rollover Letter Template
There are times when you can transfer your 401k retirement account. Performing a 401k Rollover is a common practice when ...
Stop Check Payment Form
Fill out this form to let your bank know to stop payment on a check. Sometimes you write a check but ...
Teacher's Attendance and Roll Book
The Teacher's Attendance and Roll Book forms are designed for keeping classroom attendance records on a monthly basis. The roll ...
Investment Trading Journal
This free spreadsheet is provided to assist with tracking market purchases and sales transactions of stock market securities or related ...
Personal Monthly Budget Form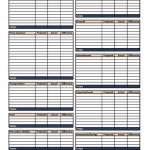 This handy Personal Monthly Budget Form is provided as a printable PDF document which includes ample space to document projected ...